Carbon Steel Pipes & Tubes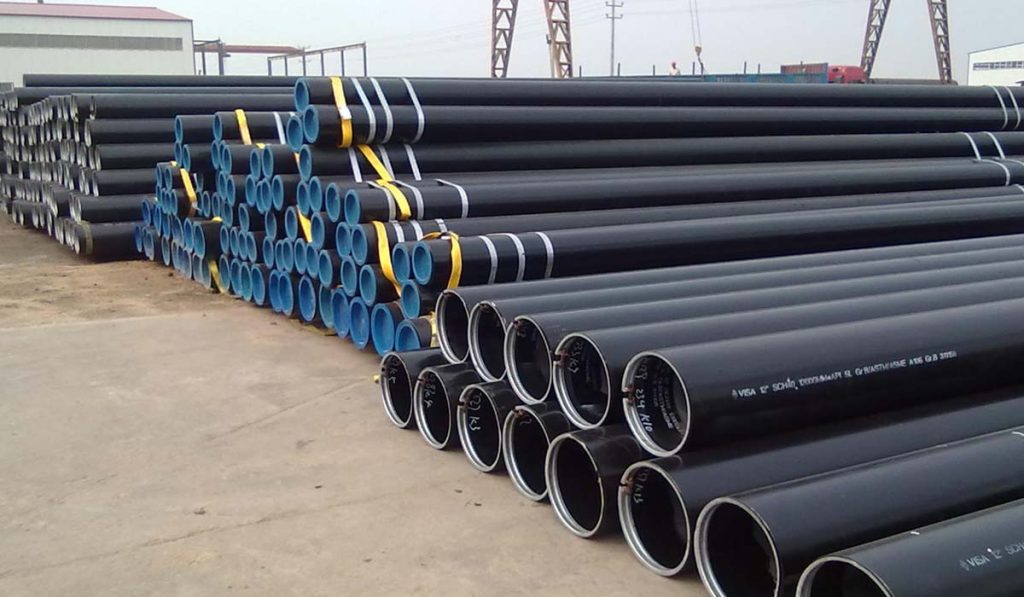 The API 5L specification consists of seamless and welded steel pipes, mainly used in petroleum and natural gas industries. The API 5L Pipe is suitable for transmitting various liquids and gas, and they are available in a wide range of sizes. We are one of the top API 5L Pipe suppliers in India. Our products, including the API 5L Pipe, are known for their quality and dimensional accuracy. We have achieved that by using the best raw materials and latest technology. We produce API 5L Erw Pipe in two product levels, namely PSL1 and PSL2, and they are used in sour service and offshore applications.
The line API 5L Seamless Pipe helps construct the entire pipeline and is quite different from casing and tubing. We have a huge Stock of leading API 5L Pipe manufacturers in India who follow all the industrial standards during the process. Using the best raw materials for API 5L Seamless Pipe ensures that they are high in quality. Our API 5L Welded Pipe is also known for its dimensional accuracy. Full customization of API 5L Line Pipe is available with us regarding dimensions, shapes, and finishes. Clients can directly contact us with their API Line Pipe requirements, and our experienced team members will assist them out.
The API 5L Schedule 40 Pipe has some unique features that stand out from other specifications' materials. The API 5L Carbon Steel Pipe comes with a minimum yield strength of 485MPa. The main components of API 5L High Yield Pipe are carbon and manganese, with 0.15% of Nb, V, and Ti in the alloy. The composition of the API 5L PSL1 HIC Pipeline improves its weldability properties.
Apart from these, the API 5L PSL2 Nace Pipe possesses several mechanical properties which makes it famous across different industries:
The API 5L Carbon Steel Line Pipe has high strength, and they are highly resistant to dynamic tearing.
The API 5L Steel LSAW Pipe is also known for its high-temperature impact toughness.
The 3LPE Coated API 5L DSAW Pipe possesses low ductility. It means they have a low ductile-brittle transition temperature.
The HIC Tested API Epoxy Coated Pipe is suitable for various acid services.
The PSL 2 API 5L Pipe Line is durable and very economical. The API Carbon Steel Seamless Pipe has become popular amongst industries due to its longevity. You can get the entire API 5L Pipe Price List by contacting us.
We keep a close eye on maintaining the dimensional accuracy of our products like the PSL 1 API 5L Sour Service Pipe. By using the latest technology, we have improved the efficiency in manufacturing Carbon Steel API 5L Spiral Pipe and give faster deliveries.
Clients looking for high quality and customized API 5L CS Spiral Welded Pipe at an affordable price can contact us directly. We offer worldwide shipping and doorstep delivery.
What Is API 5L Pipe?
The API 5L is a specification which delivers standards for pipes. The API 5L Erw Pipe constructed under this specification are considered to be well suited for certain types of uses. Generally, the API 5L Line Pipe is typically used in applications that are based in industries such as in the oil and natural gas industries especially in the conveying of fluid like water and oil. The API 5L Seamless Pipe can also be used in the transportation of steam and gas as well. The API 5L standard covers two kinds of pipes i.e. seamless and the steel line API 5L Welded Pipe. Fusion bond epoxy powder coating, also referred to as FBE coating is one finish that is widely used in order to protect the steel API 5L Seamless Pipe used in pipeline construction against corrosion. Hence, this FBE API 5L PSL1 Pipe Coating tends to have good corrosion resistance properties, while being set as a standard which is followed in the manufacture of these pipes. While the PSL 1 grade pipes are considered to be a standard, the API 5L PSL2 grade 2 pipes prove to be of a much better quality. This is because the specified API 5L NACE MR0175 Pipe PSL 2 grade have routine and stricter quality checks during production. In addition to this PSL2 grade pipes have to adhere to the rather strict chemical as well as mechanical specifications of the technical committee. If you are looking to purchase good quality, sturdy and durable API specified 5L pipes, you can get in touch with us. At Hind Metal, we offer FBE Coated API Pipeline at reasonable price in India. We are one of the leading supplier, exporter of API 5L Pipe in India.
API 5L Specification For Line Pipe
SAW Pipes
16″ – 100″ NB
Seamless Pipes (OD)
21.3 – 660mm ( Inch 1/2" – 26")
PSL2/ PSL1 ERW and HFW
1/2" NB – 24" NB
End Types

Square Cut, Deburring, Screwed, Squared Ends, Plain end (PE), Pub Joints, Threaded Ends (Male & Female), Grooved, Cut Grooves, Vibrator Grinding, Chamfering, Thread Cutting, Coupling, Flanged Ends, Beveled End (BE), Buttweld, Socket

LSAW / DSAW
16'OD TO 54″ OD (8 MM TO 50 MM THK)
Length
DRL, SRL, 20FT, 40FT, Single Random Length (SRL), Double Random Length (DRL), and Fixed Length 5.8 Meter, 12.0 Meters (40FT), 6.0 Meters (20FT), 11.8 Meters,
Wall Thickness (WT)
SCH80, SCH-XS, SCH160, SCH-XXS, SCH-STD, SCH40
PSL Level

PSL1 -used for for offshore service
PSL2 –(most popular) used for sour service

Manufacturing process
Horizontal Submerged Arc Welded (HSAW), Hot Finish Seamless (HFS), Electric Resistance Welded (ERW), Electro Fusion Seam Welded (EFSW), Submerged Arc Welded (SAW), Extrusion, Cold Drawn Seamless (CDS), Seamless, Welded, Longitudinally Submerged Arc Welded (LSAW)
Cutting Facility
Laser Cutting, Sawing, Tapping, Water Jet Cutting
Line Pipe Coating
FBE, Galvanized, Black Painting, CRA clad, 3PP, lined pipe, 3PE, Anti-Rust Oil, Varnished, 3LPE
Approvals
ISO 17025 for Laboratories, ONGC, Saudi Aramco, Shell, EIL, Merkblatt W0, NORSOK M-650, IBR, KNPC, PED 97/23/EC, HAF 604, L&T, AD2000, BP, PED
Origin of material
Indian, Asian, Gulf, European, Africa, Chinese, Japan, Japanese, USA, Korean, UK, Russian, Ukraine, Latin-American, American
Certificate
IBR, NACE, Sour-Service, EN-10204:3.1, EN-10204:3.2, HIC, SSC
Equivalent Standards
AISI, KS, CSA, GOST, ASTM, UNI, NFA, BS, AWWA, SS, SAE, EN, ISO, ANSI, DIN, JIS, GB, IS
Leading API 5L Pipe manufacturers
JFE, Arcelormittal, United Seamless Tubulaar Pvt. Ltd (USTPL), TMK, Indian Seamless Metal (ISMT), Benteler, Boly Pipe, Jindal Saw Limited (JSL), Interpipe, Sumitomo Corporation, Maharshtra Seamless Limited (MSL), TATA Steel
Test

Creep, Ferrite, Impact, Stress , Hardness Test, Tensile, Salt Spray Test to test Phosphating, Ultrasonic, Hydro test, Chemical, Hardness, IGC- Intergranular Corrosion Test, HIC- Hydrogen-induced Cracking, Charpy V-Notch Test, TM0177, Fine Grain, Surface Roughness Test, Non Destructive Testing , SSC- Sulfide Stress Corrosion Cracking, Flux Leakage examination or Magnetic Flaw detection, TM0284, Metallurgical & Stereo Microscopy, Positive Material Identification (PMI), Straightness, Mechanical, IBR, Micro, Bend TestBend test / Guided Bend, Charpy V Impact Test, Eddy current, Ultrasonic Test, H2 SERVICE, NACE MR0175, Burst Test, Radiography, Macro

Material Test Certificate (MTC)
NACE MR0103, destructive, NACE MR0175, EN 10204 3.2, Ultrasonic Testing (UT), N5, nondestructive, NDE, EN 10204 3.1, E/I, ISO10893-8, API 2B, ASTM A252, Radiographic Testing (RT)