Polyurethane (PU) Coating
Comprised of Resin & Activator, Polyurethane Coating is a 100 % solids organic coating. Due to their low permeability and high chemical resistance, Polyurethane Coatings act as a 'barrier coating' by blocking out moisture, oxygen, and other chemicals from the surface. Since polyurethane coatings can be waterproof and have high abrasion resistance, they are an excellent choice for application on metals, wooden floors and on top of other coatings. Polyurethane coatings are used for many different applications. The unique qualities PU Coating are as underired. This external coating not only provides corrosion and chemical resistance but UV resistance too. Also, it has very low moisture permeability.
---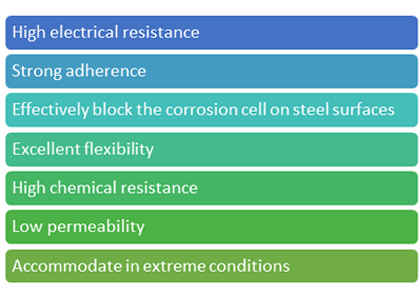 At Hind Metal, this high performance plural component application is applied at high film thickness ranging from 500 – 3000 microns. Our PU Coating provides exceptional, long term protection where severe corrosive environments and high abrasion or impact resistance is required.
---
Features We Protect
Strong adhesion to steel pipes
Excellent chemical resistance
Working Life We Promise
At Hind Metal, we promise high hardness, abrasion & impact resistance through pinhole free PU Coating that provide typical
Standards & Specification We Follow